Patriot Building Supply partners with decking manufacturers to give homeowners and contractors the best selection of high-style, low-maintenance decking materials.  All backed by the manufacturers industry-leading warranties. Our skilled staff is ready and willing to help you design your new outdoor living space. Come by and speak with us and take home a sample.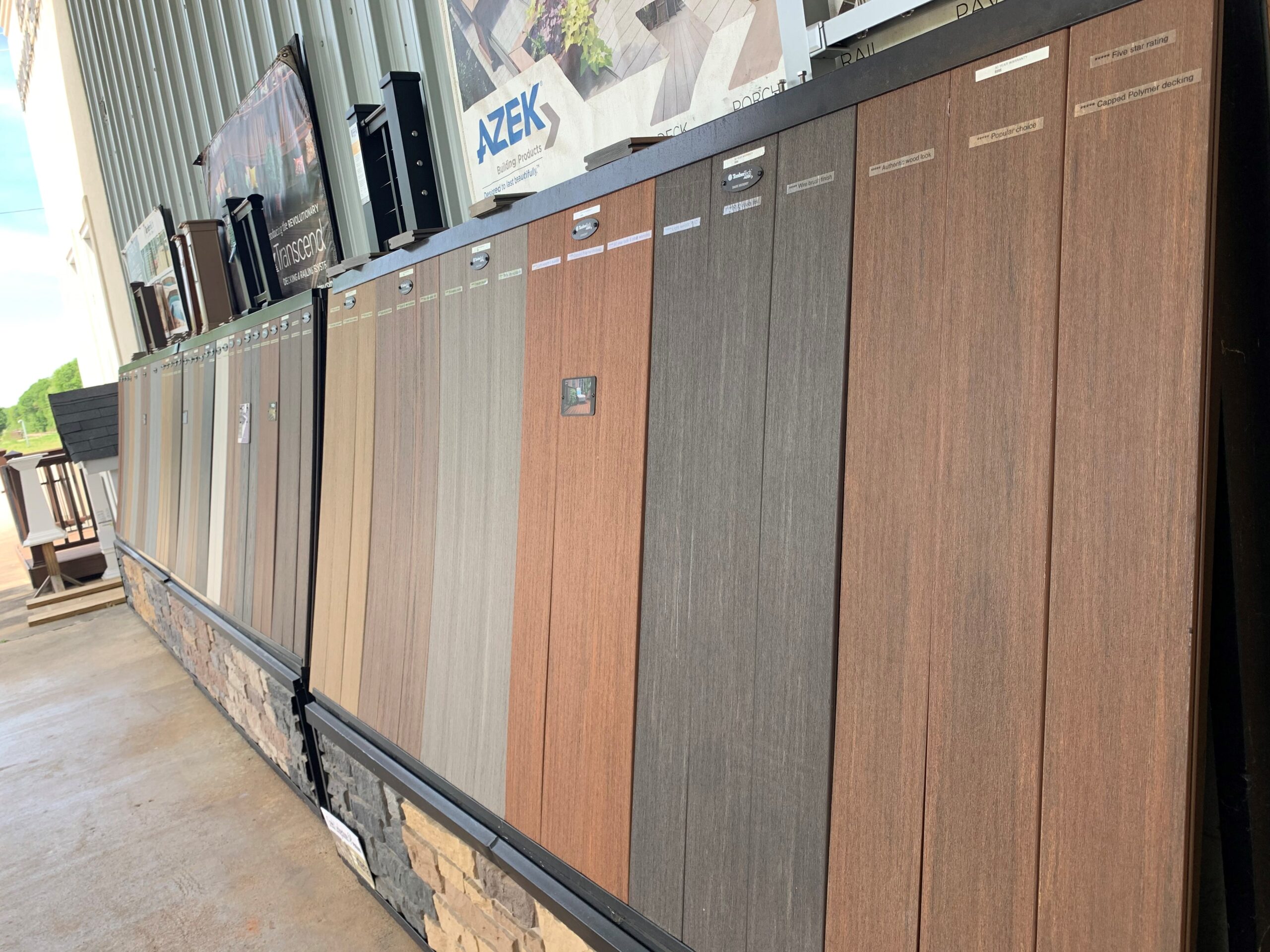 Please come and check out our decking display anytime. It is open 24/7 for you to look and see which decking board would be right for your home.

Experience the peace of mind that comes with using manufactured decking materials over traditional wood
Why should you use Manufactured Decking instead of Pressure treated? 
Eco-Friendly
Available in multiple width profiles
Increase the value of your home
Look and Feel of REAL WOOD!
Won't rot, split, splinter
Available in a wide range of colors and textures
Manufacture Fade & Stain Warranty
Low Maintanance
Framing
One option instead of pressure treated framing for you deck is Steel framing. Steel framing is a great option for your forever home. It looks and installs like wood and when you build flat, it stays flat. Steel framing provides greater spans between supports and works with any type or brand of decking, including composite, PVC, and aluminum decking. Steel framing carries a 25-year limited manufacturer warranty and is designed for low-maintenance, durability, ease of installation and safety.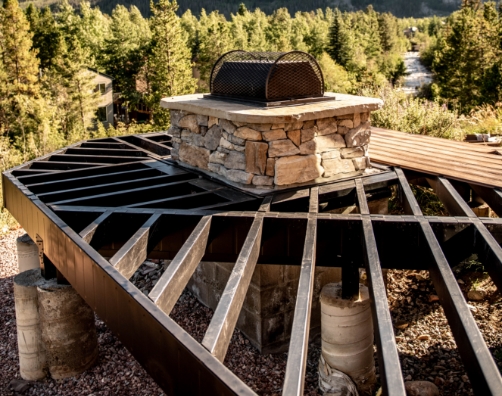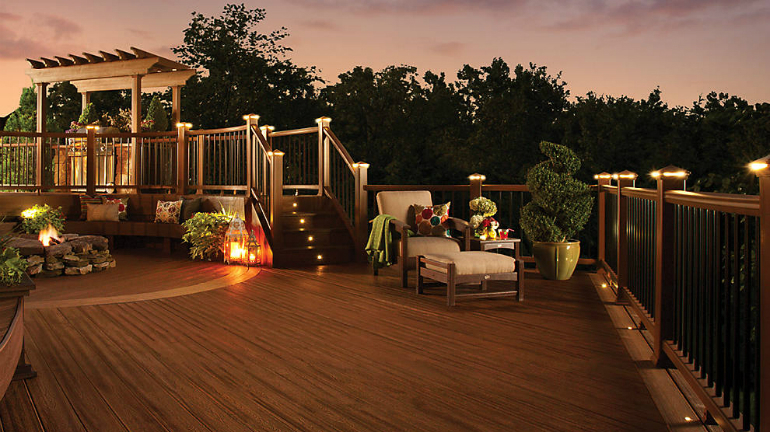 Deck Lighting
Another way to accent your new deck is with deck lights. Deck lights come in many forms including post cap, riser, in-deck, accent and lighted cap rail. Not only will it illuminate your deck and give it a welcoming glow at night, but also will increase the safety of your deck making it easier to manuever at night. Deck lighting can be either solar powered or direct current and can add value to your outdoor gatherings.
Underdeck Systems
A great way to enjoy more of your home is with an Underdeck system. Underdecking systems allow you to double your livable outdoor space. They are designed with second-story decks in mind. Under deck systems collect and channel moisture from the spaces between boards with a hidden under-deck drainage system. Available in a few colors and lengths to accomodate all sizes of decks.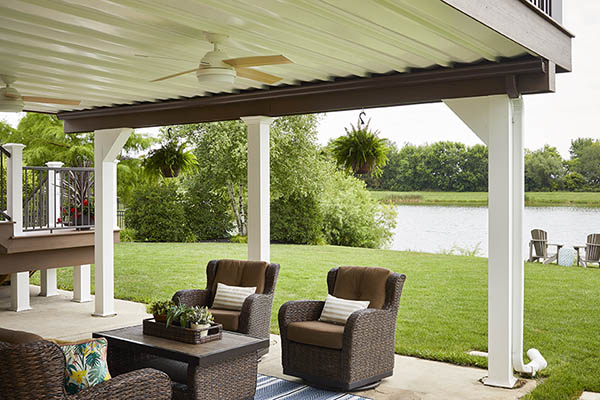 Colors and Grain Patterns
We have colors to cover any look you are wanting. From natural wood looks to a more solid color, painted board look to a sun-bleached look that has varying shades within a board. The grain patterns differ from collection to collection from a wire brush finish to a more traditional cathedral wood grain pattern.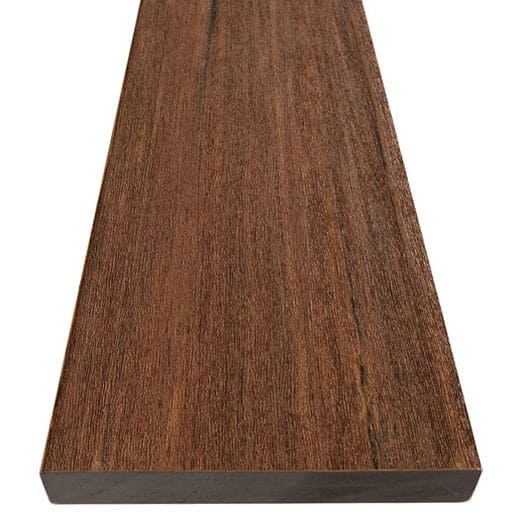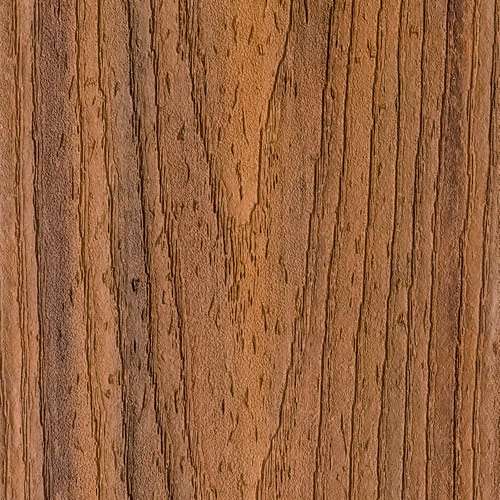 All decking warranties run from 25 to 50 years depending on the brand of decking you choose. They include a stain and fade warranty as well as limited lifetime warranty.
Come See Our Outdoor Decking Display and Take Home a Free Sample!
We have a huge selection of colors and styles to choose from. It can be difficult to choose the right color and texture online.  Our outdoor display is available 24 hours a day, 7 days a week.
No Hidden Fees
Our quotes are straight forward. No hidden fees for small quantities or loading.
Display Available
We have many samples and staff on hand ready to answer any of your questions or concerns
Quality Products
Having been in the industry for so long, we know which products stand the test of time and are in your budget.
Ready to Start Your Project?
Use our Quick Contact Form or give us a call to get a Free Quote Today!